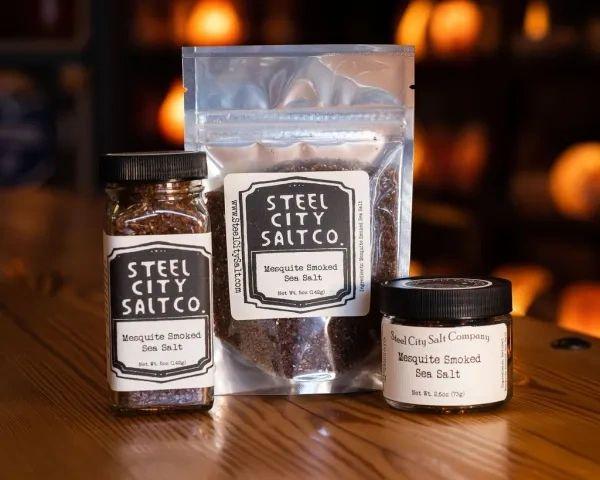 Steel City Salt Co. Mesquite Smoked Salt
MESQUITE SMOKED SALT

2.6 OZ SHAKER-TOP BOTTLE (80g)
"Our Mesquite Smoked Sea Salt is our boldest smoked salt yet! Fine grain Pacific Sea Salt is cold smoked over real Mesquite wood, the official smoke flavor of Texas Barbecue.
This is a very hearty smoked salt in which a little goes a very long way and will compliment any meat or veggie that you want to add an authentic smokiness to! The grain size is small so it works perfectly as a rub base, especially for longer cooking cuts of meat!
Try it on any type of grilled meats (Brisket, shoulder, beer-can chicken, ribs, etc) or veggies!
Mix with your favorite spices for a custom BBQ rub, or use as a standalone salt to add real authentic, hearty smoke to anything you are cooking!"
Ingredients: Mesquite Smoked Sea Salt