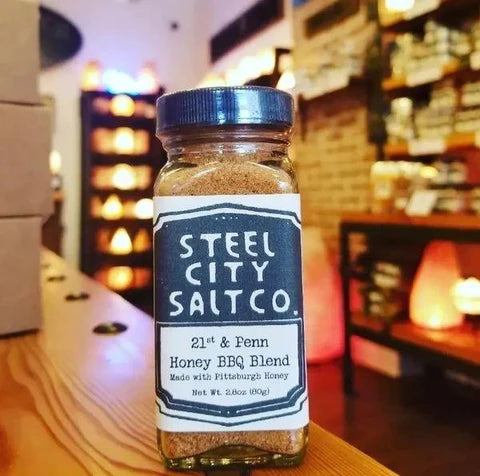 Steel City Salt Co. 21st & Penn Honey BBQ Blend
21ST & PENN HONEY BBQ BLEND

2.6 OZ SHAKER-TOP BOTTLE (80g)
"With so many sights, sounds, smells, and most importantly FLAVORS, we wanted to pay homage and celebrate our original location where we got our start.

Teaming up with Pittsburgh Honey, we went all-out for this amazing flavor-bomb of a blend. Sweet, salty, tangy, and incredibly flavorful, this is the perfect blend for using on the grill & BBQ, cooking out, and for adding to just about anything for that oh-so-delicious BBQ taste....your taste buds will be happy.
Uses: Ribs, burgers, chicken (wings are our favorite), salmon, brisket, pulled pork, fries, seafood, corn (YUM), homemade chips, and anything on the grill!"
Hand-mixed from: Pittsburgh Honey, Local Honey Powder, Sicilian Sea Salt, Garlic, Hungarian Sweet Paprika, Toasted Onion, Black Pepper, Smoked Paprika, Mustard, Spices