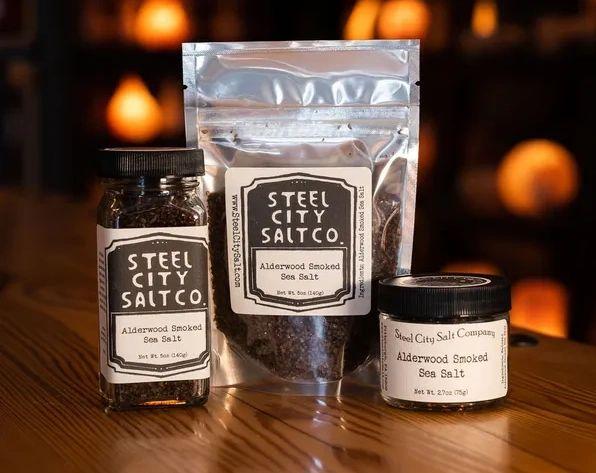 Steel City Salt Co. Alderwood Smoked Sea Salt
ALDERWOOD SMOKED SEA SALT

2.6 OZ SHAKER-TOP BOTTLE (80g)
"Our first and most delicious smoked salt! Crunchy hand-harvested Sea Salt is slow smoked for 48 hours over natural Northwest Alderwood, giving an authentic and rich smoky flavor! Our smoked sea salt is a completely natural way to add real smoked flavor to anything without artificial colors, flavors, or additives. The grain size of this Smoked Salt is slightly coarse, just enough to give a nice crunch which will totally transform your favorite dishes!
Northwest Red Alderwood has been used to smoke salmon and other meats for hundreds of years starting with the Native Americans, making it a true Northwest tradition.
Use this fabulous smoked salt on fish, grilled meats, eggs, chocolates, sweets, atop peanut butter cookies, or anything you would love to add an authentic smoky flavor too!"
Ingredients: Natural Alderwood Smoked Sea Salt